2 Capitals Russian Course: St. Petersburg + Moscow(It)
Now we offer a new exclusive Russian language program,
and with this program you can get the best of the 2 capitals, Moscow + St. Petersburg in one trip:
Beautiful cities, top schools, and unforgettable experiences!
You save on the visa, flights and hotels: enjoy more, pay less!
Fly to/from Moscow or St. Petersburg: choose convenient flights!
Moscow is not just the capital, it is also the city of old Russian churches and iconic Soviet landmarks
In addition, our partner school offers a unique weekend immersion program in the countryside near Moscow (EUR 200)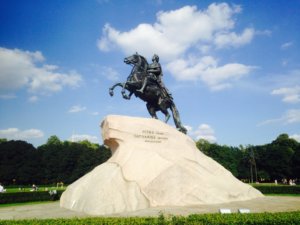 St. Petersburg is he Cultural Capital of Russia and has the best of the Golden and Silver Ages of the Russian Empire.
The school founded & run by the authors of famous Поехали! course books.
2 weeks in St. Petersburg + 1 week in Moscow = EUR 1490
The package includes:
Accommodation with welcoming Russian host families
20 mini-group lessons/week with passionate and professional language instructors
(You may book extra individual lessons on the spot)
Comfortable night train trip between the 2 cities (1 way)
Cultural program depends on the season and is booked separately on the spot, but includes classical sightseeing options as well as unique activities, such as Matryoshka painting workshop or canoeing on rivers and canals.
Take your Russian to the new level, discover both Russian capitals and enjoy the language vacation of a lifetime!